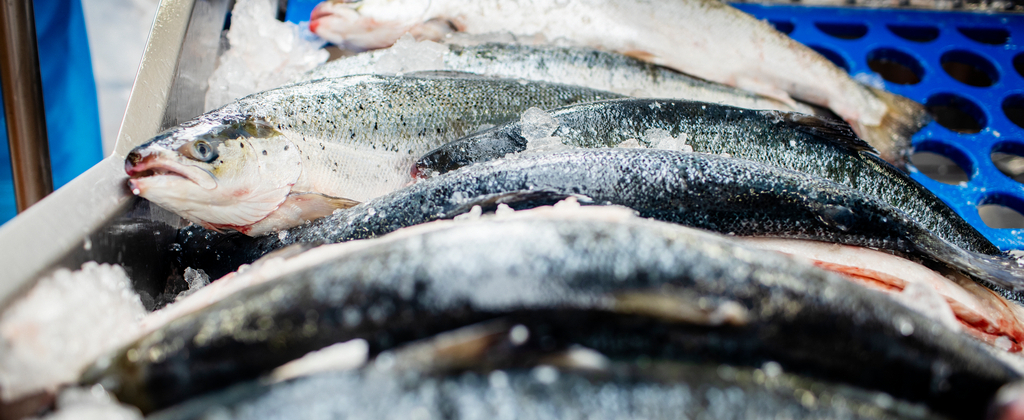 Frequently Ask Questions
Safe Food
Can I freeze my salmon and if yes, how long?
You can store raw salmon in the freezer for three months before the quality starts to go down.
How long can I store the salmon before eating after thawing it?
The salmon should be used within 7 days of thawing.
How long can my chilled salmon be kept when it is open?
The salmon should be consumed within 48 hours of opening and within the use by date.
There are no antibiotics or various medications in your products?
No, all our high quality products are made at our new state of the art factory and every step is monitored closely by our experienced quality control staff. Raw materials are carefully chosen and sourced from suppliers with the highest quality and sustainability standards. Our own modern in-house laboratory is testing all batches running through our production lines to secure the highest food safety.
Are there any harmful substances in the packaging that are transferred to my fish?
There are no harmful substances in any packaging used by Milarex.
Farm raised salmon
What do the farmed raised salmon eat?
The salmon eats dried feed in the form of pellets. Each pellet contains the nutrients the salmon needs to grow and stay healthy. The feed consists of vitamins, carbohydrates, minerals, additives, fat and proteins. Fat and proteins comes from fish meal, fish oil, plant protein and/or plant oils. The source of carbohydrates are agriculture products like wheat and corn. Additives are typically antioxidants or coloring agents like astaxanthin and panaferd.
What makes the salmon pink?
Salmon flesh is naturally pink. In wild salmon, this is in part due to the ingestion of carotenoid, which are produced by plankton and travel up the food chain. Different types of salmon around the world have varying degrees of color. For example, sockeye salmon's famous deep red hue is the result of a biological difference which allows them to metabolize carotenoids more efficiently than other species like Atlantic salmon. Carotenoids, such as astaxanthin, an antioxidant that many people take as a supplement from health food stores, are added to salmon feed as a vital nutrient for fish health and growth and give farm-raised salmon its pink color.
Environmental and social responsibility
How do you know that the salmon you sell are sustainably farmed?
At Milarex we source our salmon based on a set of specifications addressing this issue. Most of the salmon we buy are also certified by third parties, standards bodies like Global G.A.P, ASC or MSC. This transparent value chain secures our customers safe and sustainable salmon products.
What does the GGN or MSC label mean?
The GGN label stands for certified, responsible farming and transparency. It is a universal mark of good farming practices with a strong core in food safety and traceability and is designed to help guide consumers in their day-to-day grocery shopping. MSC stands for the Marine Stewardship Council. They are the world's leading certification and ecolabelling program for environmental sustainability of wild caught seafood. Their iconic blue logo identifies all seafood products that come from well-managed, sustainable fisheries. Health
Health
Is eating farm raised salmon healthy?
Salmon are nutrient dense with omega 3, proactive antioxidants, high quality protein and vitamins like A, D and B12. The omega-3 fatty acids are known to help lower the risk of cardiovascular disease and have the reputation of being a valuable "brain food". Salmon are also known to be one of the best dietary sources of vitamin 12.
Taste
What is the difference between cold and hot smoking of salmon?
Smoking temperature! In fact, in terms of process, the temperature used during smoking is the only difference. Cold-smoked salmon is smoked around 27°C or lower while hot-smoked salmon is smoked at approximately 72°C. The temperature difference results in cold-smoked salmon having a fresher and more delicate smoky flavour, while the hot-smoked version has a more intensely smoky taste. In terms of texture, cold-smoked is more smooth and silky, while hot-smoked salmon is flaky, as if it had been baked.
Milarex
How do I get an offer from Milarex?
Our range of products is extensive: please contact our sales department to receive a full list of products and an offer based on your needs and specifications – [email protected]
Do you have a product catalog?
You will find an overview of our branded products and a food service catalog on this web page. Our range of products is extensive and not all products are listed here on this page. If you don't find what you are looking for contact us on [email protected]
Can we come and visit your factory?
Milarex are proud of our state of the art production facility and we normally welcom customer visits. During the Covid-19 outbreak the focus needs to be on the health and safety of our employees and securing stable production. Based on this all visits are cancelled until the situation is normalized.